February 4th, 2015
Ginette in Better Homes and Gardens Magazine April and May 2013
Many of my art and designs are featured on DENY Designs To see my full catalog visit. "Rust" was created from a detail scan an of a watercolor and was featured in Better Homes and Gardens
www.denydesigns.com/products/ginette-fine-art-rust-outdoor-throw-pillow
http://www.denydesigns.com/collections/artist/ar:ginette-fine-art
January 31st, 2015
Watch me paint on my Jekyll Island Georgia Baby Turtle Oil Painting.



The original painting is available. Here is a direct link to my website. It's safe to go there. I have been online since 1999 my website is secure. If you have questions please don't hesitate to contact me.


http://ginettecallaway.com/products/loggerhead-turtle-beach-jekyll-island-georgia-large-impressionist-original-oil-painting-by-ginette-callaway#
Of course you can purchase prints here. All sizes. Thanks in advance for your purchase.
January 29th, 2015
I love lapis lazuli blue as much as Van Gogh loved Yellow. I never miss an opportunity to use this gorgeous blue in my work. Here is an example of an oil painting of Cornflowers somewhere in Provence. Flowers and Nature just like I remember when growing up in France where I was born.

If you are intereste in the original oil painting please visit my site here is a link:
http://ginettecallaway.com/products/blue-cornflowers-and-dragonfly-provence-modern-impressionist-original-oil-painting-by-ginette-callaway

You an also purchase prints here on Fine Art America. Please let me know if you have any questions.


December 30th, 2014
I really don't like to talk about ailments especially if they are mine but I want to make an exception just once. I have some wonderful online friends on Fine Art America and I do wish i could comment more on their work or be more engaged online with them. They certainly are kind and leave wonderful comments on my work almost every day.

If I don't reciprocate and much as I should and if I don't post updates and blog posts as much as I would like to, it's only because I have been dealing with eye problems all year long. It started around march after a bit of a stressful event. I developed a shingles infection in my left eye and later it also effected my right eye. There isn't much a doctor can do.

I have been treating it with frankincense and myrrh which will make the blisters go away as long as I put it on right away. I have to treat my eyes every day.

Wit this shingles problem, it's very straining to look in to the monitor too much and reading or writing is difficult. I miss letters (thank goodness for spell check and the image is blurry at times more than other. It's a good thing i am an impressionist painter, otherwise I'd really be in trouble.

So I am not complaining, it could be much worse. I have seen pictures of people with full blown shingles in their eyes and I have to say I keep it at bay with my tincture from frankincense and myrrh.

It worked well but it's a constant treatment if I skip a few days blisters start forming inside my eyes and on my lid, my eyes hurt and itch like crazy. I hope this will eventually stop!

Right now, I have to preserve as much of my visions I can to be able to paint and do the things i must do to show my art online and sell art and prints. This is how I survive financially. I have no other job.

So please if you are one of the many people who comment on my work and I don't always get back with you right away, rest assured I am grateful more than you'll ever know.

Happy New Year to all, health, peace and prosperity!
December 18th, 2014
So I am working on this huge oil painting. It's on fine Belgium linen.

It's stapled to my painting wall.

Each side is over 50 inches, enough to stretch it and have a 50 x 50 inch painting.

This is the last so far. Today I am going to work on it some more. I'm thinking about working in some bleeding hearts.


April 6th, 2014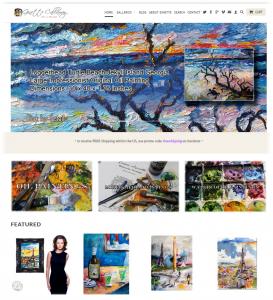 My name is Ginette Callaway and I have been an artist, self representing online for over a decade. I have sold through many avenues but finally decided to start my own e-commerce web site.

Many of you know me from ETSY where I still have a gallery. ETSY is nice but limited.
I want to have more flexibility in what I can show and how I can present my art, larger images, great zoom features, so you, the art buyer can see my work up-close. In each listing on my new site, you may hoover over an image and see it become more detailed. The site is very response and you may also browse on your hand held devise. When it comes to visual art, it is very important to show you great images that truly represent the artwork. I go out of my way to do this here. If you ever like to see additional images before you want to purchase, just let me know.

I can tell you with all honestly that my collectors always tell me the art looks much better in person.

The image presentation and being able to show you more about my work and tell you more, is what this site will allow me to do.

Please visit my new web sit and see my original paintings today.

Here are a few comments that I received recently from buyers:

Olive Trees and Lavender --- 4th and FINAL Payment I've purchased several paintings from Ginette and each one has exceeded my expectations. They all have been beautiful and I love having them in my home. Ginette is very easy to communicate with and sends the paintings quickly and well packaged. I will continue to be a collector of Ginette's art in the future.


French Impressionist Original Oil Painting Magnolia Gardens At The Waters Edge by Ginette Callaway - It's gorgeous!!!!!!!!!!!!!!!!!!!!!!!!! Now I'm saving up for your Hill Country original painting. :) Thanks so much! Such talent.


Garden Of Good and Evil - Savannah Georgia Bird Girl by Ginette Callaway This piece is even more beautiful in person! It captures everything we love about the south. Perfect transaction and speedy shipping to Canada!


Wetlands Original Impressionist Oil Painting by Ginette Callaway LOVE LOVE LOVE this BEAUTIFUL PAINTING!!!!!!!! Thank you so much, Ginette!!!! You are amazingly talented!!!!!



Heading South - Autumn Birds Landscape Oil Painting by Ginette Callaway The painting is excellent and so was my interaction with the seller. I would (and hope to) buy another painting from Ginette soon.
May 7th, 2013
Over the years many people from all over the world have come to collect my art. One of the most faithful ones is a lovely lady from California her name is Jenni. She also has a blog now and to my surprise she blogged about some of the art she has. She owns now 23 of my original paintings. Her latest acquisition was of a little bird painting, namely a Scarlet Tanager.
Here is her blog post. Check it out.
http://gnomelover.com/2013/05/04/ginette-callaway/

http://www.ginettefineart.com/blog
http://www.ginettefineart.com
http://www.ginettecallaway.com/

http://www.etsy.com/shop/GinetteFineArt
http://www.denydesigns.com/collections/ginette-fine-art-all-art

http://ginette-callaway.artistwebsites.com/
http://ginettecallaway.imagekind.com/store/

http://www.zazzle.com/ginette_callaway
http://www.zazzle.com/ginette_callaway_2

European Customers may also purchase reproductions here
http://www.artflakes.com/en/shop/ginette-callaway
May 3rd, 2013
Impressionistic oil painting painted with brush and knife in a tradition manner. My work is often compared tot hat of to VanGogh in style and feel. I admire and learn from artist like Van Gogh as well as Russian Impressionist Nicolai Fechin. Paint is applied thick and generous. This painting has mostly primary colors, Variations of red, blue and yellow and many greens that I mix myslef. Annecy is one of the many places I paint, remembering my years in France. Many people travel to this enchanting location for it's canals and old world charm. Swans are carefree floating along the canal and people are out in boats often celebrating their honeymoon. Please contact me if you are interested in the original or have special custom oil painting request. http://my.vcita.com/ginette




Please contact me if you are interested int the original painting.
it is 48 inches tall and 24 inches wide and 1.5 inched deep.